DETAILING GIFT CERTIFICATE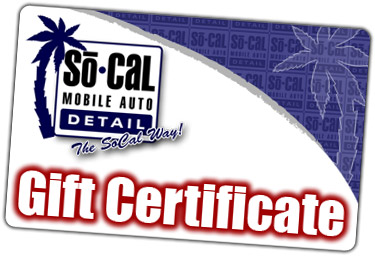 Everyone has dreamed of receiving a new car as a gift and for a select few that dream has become reality. But how about giving a gift that could make somones existing car, truck or SUV nearly new again… that gift is the gift of Auto Detailing Gift Certificate !
Making our vehicles last longer is something so many of us are taking aim at so why not assist family and friends with that task and give the ultimate gift for any occasion, the gift of a clean and well polished vehicle!
Detailing is a gift that tells others you care about them and a gift that gives for months and months!
Contact Us today about gift certificates for your next auction or fundraising event also. **FREE SHIPPING**
| | | | | |
| --- | --- | --- | --- | --- |
| $25.00 GIFT CARD | $50.00 GIFT CARD | $100.00 GIFT CARD | $150.00 GIFT CARD | $200.00 GIFT CARD |
| | | | | |